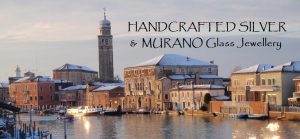 December  2022  Update:
Next scheduled appearance in Charlestown Square, Newcastle, NSW
November 7th 2022  thru January 15th 2023 Centre Court across from Boost Juice and next to Santa Claus
Anything we can help you with in the meantime just let us know.
e-mail: kaowenoz@hotmail.com or call Michael
0422 254 457 
*** ALSO CHECK OUR FACEBOOK PAGE ***
Collectivesterling Handcrafted Silver Jewellery
Hello Everyone !! Michael & Kathleen welcome you to our website.
We specialize in Handcrafted .925 Sterling Silver & Murano Glass Jewellery (Millefiori) more commonly known as "Venetian Glass". We cater to the discerning client expecting quality. Most all our designs are original and produced by us.
Our Quality and Handcrafted Settings are second to none !!!
We are constantly adding new items to the site. If there is something special you are looking for, please email us at : kaowenoz@hotmail.com. We will add your request to the site immediately for your convenience. If you don't see what your looking for just ask us. Always happy to help.
Please be aware the majority of our Handcrafted Jewellery and Murano pieces are "one of a kind". When they are purchased, a new unique item replaces them.
The exact piece you see in the photo is the piece you receive.
We accept credit card payments using a safe & secure site. Any issues or problems just contact us:  kaowenoz@hotmail.com  or call / text  Michael  0422 254 457  or +61 422 254 457 (outside Australia calls & texts )
Postage within Australia is a flat rate $12.00.
FREE POSTAGE within Australia on orders $150.00 and above. Click on Free Postage.
USA Postage $20.00. Free on orders $200. and above. Click on Free Postage
All items are beautifully gift boxed and sent registered express post.
Murano pieces include our information brochure and guarantee of authenticity that the Millefiori glass is made in Murano, Italy.
All Our Handcrafted Jewellery is .925  Sterling Silver
---
Featured Jewellery